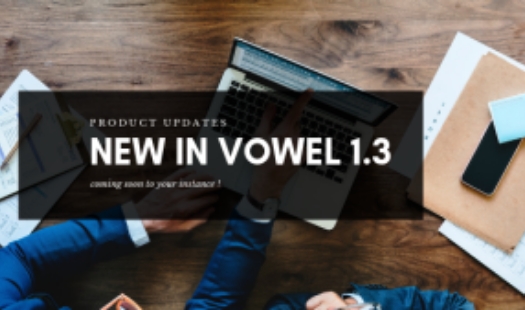 ---
We are happy to announce that a major upgrade – the 1.3 series shall soon be making its way to your Vowel LMS instance
In each major release, our goal is to try and bring in a mix of innovation and solutions driven by customer feedback. This allows us to bring powerful features that matter while avoiding bloat. The 1.3 release of Vowel Learning Management system is no different.
Support for Media in Questions and Answers
Now your Quiz questions as well as answer options can have media attached. Be it a Youtube video, an image, or a document. This opens up powerful possibilities. One of the first uses we have seen at a client instance is using the Quiz to do comprehension tests on Videos!
Subjective Questions in Quizzes
With this, your quizzes can now have Subjective questions with assessors assessing the Subjective part of a Quiz. This means you can now do hybrid objective and subjective quizzes and get more accurate assessments of your subjects.
Exercises and Assessment Engine
Sometimes Objective quizzes just don't cut it. Sometimes you need more comprehensive knowledge checks. Our new Exercises feature lets you create fully Subjective question papers with a full features assessment engine where you can design multi-parameter Assessments. This was first deployed at a client's instance to do exhaustive technical tests and assessments for the certification of professionals.
Large Exam Features
When you are running larger exams with lots of questions our new features for flagging questions, skipping them, and jumping to questions from the Question Navigator is very useful. Questions can also be grouped into sections now for better presentation. One of our clients has used it to conduct pre-interview testing of candidates.
Safe Exam Browser Integration for proctored controlled examinations
Safe Exam Browser is a web browser environment to carry out e-assessments safely. The software turns any computer temporarily into a secure workstation. It controls access to resources like system functions, other websites, and applications and prevents unauthorized resources from being used during an exam. With this integration, you can restrict exams to be accessible only via SEB-enabled machines securely. One of our Education domain clients is now using it for their entrance exams.
Easy Control on Email Notification Content
Now we bring more control into your hands to choose the content of the various email notifications sent by the system.
New Options to Design Certificates
You can now design multiple certificates and control parameters like Page Size and orientation via the certificate manager and also show custom course fields in certificates.
Feedback as lesson
Taking feedback on a course is an important way to check the user's engagement and also take input on how to improve your training content. However, users are never keen to give feedback. With this feature now you can design feedback forms as part of required course content. This will ensure you get the feedback you need.
Improved Course Authoring UX
The course authoring flow has been improved to support the new lesson types introduced in this release.
H5P.com Support via LTI
We are happy to announce support for H5P.com a powerful cloud-based Interactive content authoring tool. H5P integrates with Vowel via the LTI interface and brings over 40 different content types including Interactive Video, Games, and more!
Course Fields for structured information display
We now support custom fields for courses. This can be useful in displaying additional structured information to users.
Support for MS Excel Files as lessons
The lesson player now supports MS Excel files. Since these are not page-based, resume tracking is not possible but time tracking is supported for the same. Note that XLS files only support simple viewing.
Brand new reports, API performance improvements
We have introduced brand new reports and existing reports have also been enhanced to include additional data. Also, tag-based reporting is introduced to do reports across the classroom and online courses. Reporting APIs have been made more efficient.
User Field Support in APIs and other API improvements
For customers who want to push more data about their users from their HRMS or Active Directory to the LMS, they can now push the same via our APIs. In general, APIs have been made more extensive. Do connect with us to get the complete technical details of these improvements.
---